Establecimos una marca inteligente expresada en naming, comportamiento de marca, materiales in-store y concepto de comunicación en medios masivos y redes sociales, creamos un programa completo de branding y comunicación para tu nuevo lugar favorito de frozen yogurt en donde disfrutas más de 45 sabores de frogurt®, más de 35 toppings, innovación de amenities y sabores en una infraestructura y ambiente que propicia la creatividad, libertad, entretenimiento y sobre todo, un lugar en donde tus ideas cobran vida.
Starting from establishing an intelligent brand platform, we developed a brand system including corporate name and promise, brand identity and code, brand behavior, interiorism strategy based on brand experience and communication concepts for mass, direct and social media, enabling Yumorama's experience to offer more than 45 frogurt® flavors, more than 40 toppings, amenities and flavor innovations, all displayed at a creative and entertaining atmosphere but must of all, a place where your ideas live on every cup and every scoop.
Tarjetas de presentación, a partir del reciclaje de cucharas de plástico.

Business Cards made of recycled spoons.
Comunicación. 

Communication.
Primer publicación publicitaria de la marca, 2009.

First ad of the brand, circa 2009.
Primer concepto de comunicación en redes sociales, 2009.

First communication concepto of the brand, circa 2009.
Comunicación táctica de producto.
Tactic Ads for product communication.
Comunicación táctica de aperturas de nuevas tiendas.
Tactical communication for new store openings.
Marketing en tienda loca. 

Local Store Marketing.
Guerrilla. 

Guerrilla Stickers
Mural del Grand Chamaco en sucursal.
Grand Chamaco + Yumorama Local Store Marketing at Yumorama
Nuevos Cups para la Marca.

Brand New Cups.

2014.
El resultado de la marca en redes sociales. 

Brand's Social Network Success.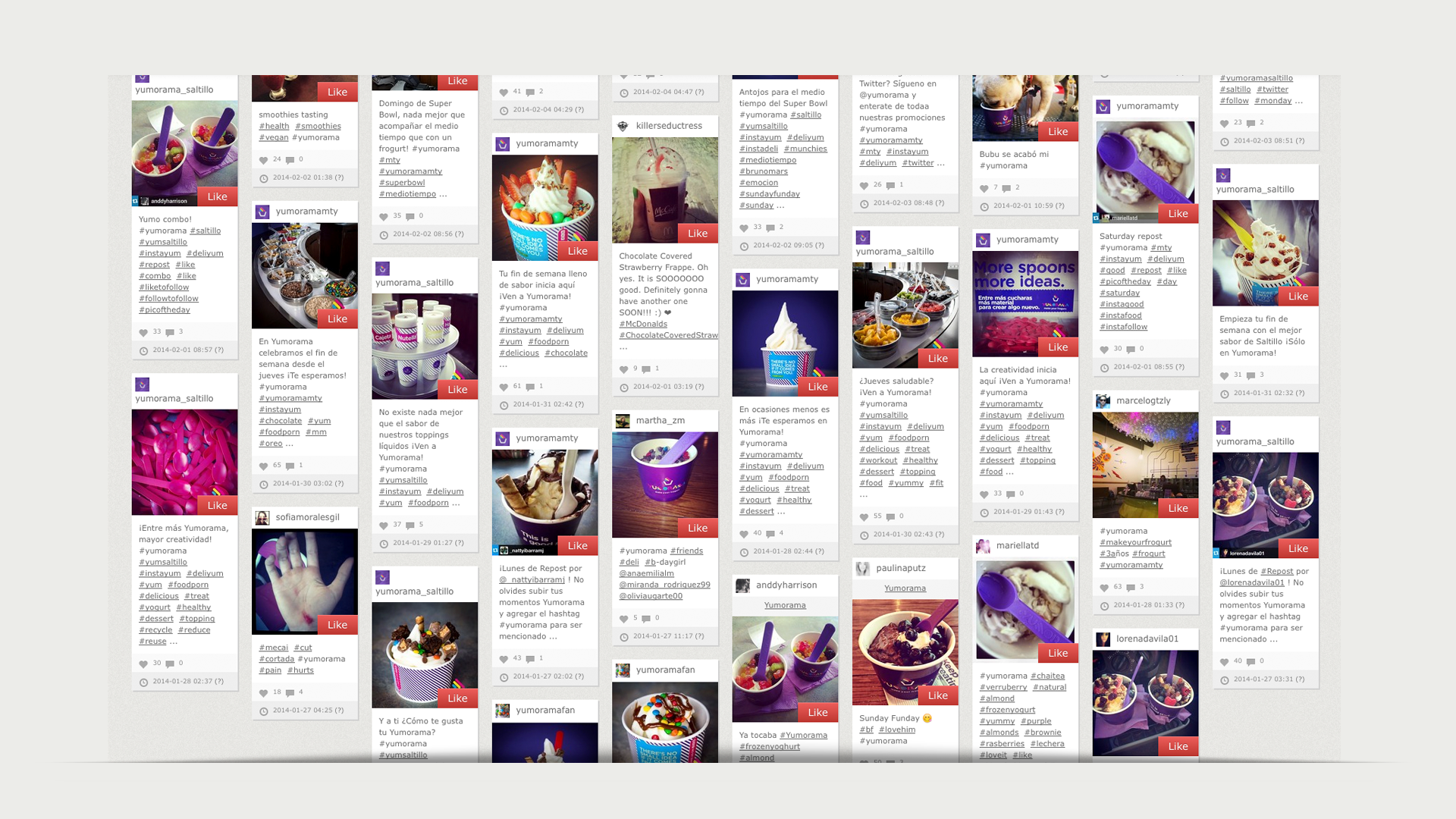 —

* Algunas de las fotografías solo aparecen de posición y no tienen un uso comercial. Some photographs appear for demonstration and they are not used for commercial purposes.